The BIG SWIM 2019
GIVETOLIVE and Brigadoon Village are thrilled to present the 9th Annual BIG SWIM from Cape Tormentine, NB to Borden-Carleton, PEI on Sunday, August 18th, 2019. GIVETOLIVE has raised almost $3 million for various charities and we are so happy that you're looking to join us on our journey! Our goal for the BIG SWIM this summer is to send 150 children to camp at Brigadoon Village.
Important Information to Remember: We allowed 50 swimmers to register for The BIG SWIM. This is to ensure the safety of every person on the water.
Each swimmer is required to fundraise a minimum of $1,500 for Brigadoon Village. Those who do not fundraise the minimum prior to the event, do not swim. You will be charged a $200 non-refundable/non-transferable registration fee upon time of registration. If you cannot complete the event, we regret that you will not receive the registration fee back.
You must try your best to find a kayaker who meets our physical and equipment requirements to escort you across the Northumberland Strait. Please note that all kayakers are required to have a minimum of Paddle Canada Skills Level 1 Certification in order to participate. We do our best to recruit kayakers but we do need your help. And don't forget that your kayaker needs to complete registration online in order to be considered. Your kayaker can register on this registration as well. There is no registration fee for them and no fundraising minimum, however we encourage them to do so if they can.
If you are under the age of 18, our team will be in contact to run through our Youth Policy and schedule the required Q&A session before you are cleared to complete The BIG SWIM. This process will be completed by March 15th at the latest. Please ensure that you have reviewed the Youth Policy included in your registration prior to our call. You can review the policy here.

You are required to join us on Saturday, August 17th for our Mandatory Safety briefing. Those who do not attend, do not swim. Our schedule is still in progress, but below is a tentative weekend schedule.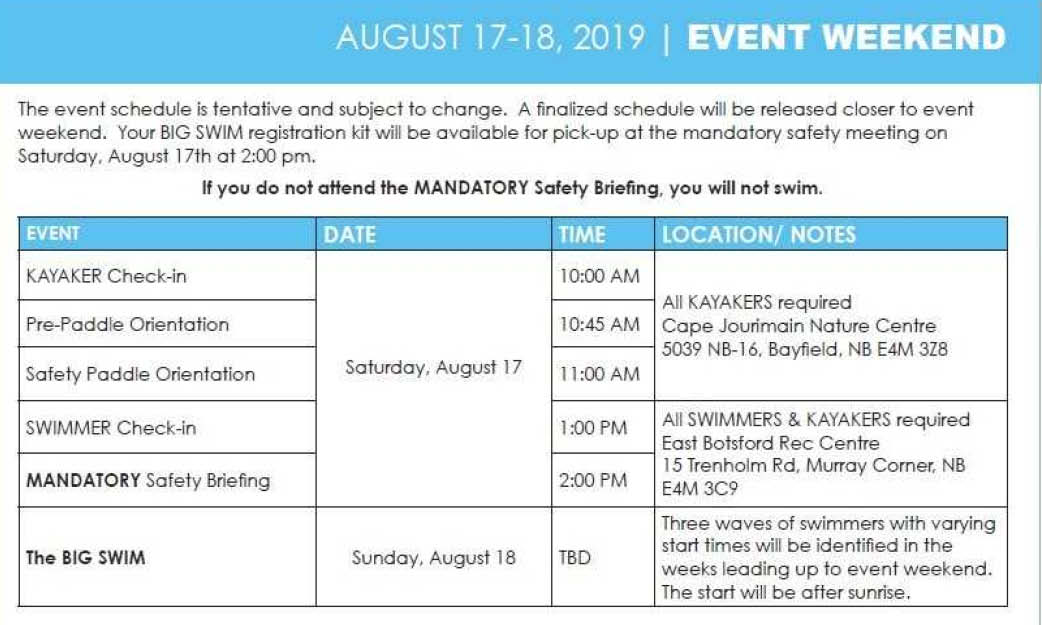 Your registration includes: BIG SWIM swimmers cap, a BIG SWIM t-shirt, safety support on event day (kayaker not included), training and fundraising support from The BIG SWIM community, and a BIG SWIM medal upon completion of The BIG SWIM on Sunday, August 18th.
Learn more about GIVETOLIVE's incredible journey here
Email: BIGSWIMDirector@givetolive.ca with any questions.
Thank you again for your interest in GIVETOLIVE! We look forward to having you join our 2019 community.
Donate:
Find a Participant or Team: