Welcome to The BIG SWIM 2019 Fundraising Page of Jeff Burns!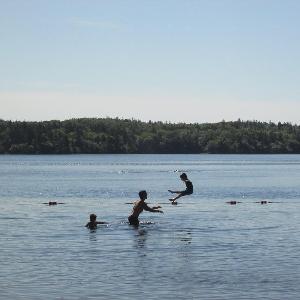 On Sunday, August 18th, I was successful in swimming from NB to PEI via the Northumberland Strait, alongside Confederation Bridge, in what is known as The BIG SWIM. Having been a competitive and recreational swimmer for most of my life (swimming both with the Antigonish Aquanauts and Dalhousie Tigers Varsity Team), and being drawn to endurance challenges, I completed The BIG SWIM in 2016. Unfortunately, that year it had to be re-routed to Murray Beach NB, due to rough seas in the Strait en route to PEI. In 2017, it was canceled altogether, but last year swimmers reached "the bright red mud" of PEI, through challenging conditions.
This incredible, physical challenge helps support children who attend the thirteen summer camps and three family camp programs (described here: http://brigadoon.org/camps) that take place at Brigadoon Village, a beautiful facility in Aylesford NS. My family had the privilege of attending one of these great camps on two occasions, both amazing experiences. I then had the opportunity to explore the facility, with my kayaker and various other swimmers and kayakers, this past June.
The mission of Brigadoon Village is that it "passionately transforms the lives of Atlantic Canadian children and youth living with health conditions and other life challenges to help them reach their full potential through experiential learning, meaningful connections and exceptional fun." Their vision is "giving extraordinary kids the chance to be ordinary."
I can relate, as I work at a day program where our mission is to "engage developmentally disabled adults in the local community in programs to help strengthen their intellectual, physical and emotional well-being." Our vision is to "provide an environment that promotes lasting dignity and enhances the self-esteem of participants by developing an atmosphere that contributes positively to the improvement of an individual's quality of life."
GIVETOLIVE is the organization that makes all this happen, with The BIG SWIM, The BIG RIDE and The BIG CHILL endurance, fundraising events. More information on this charity and other events can be found here: https://givetolive.ca.
Please help to support these remarkable children by sponsoring my BIG SWIM 2019 efforts. I raised over $2,300 three years ago. This year I aim to top that amount, helping to send even more children to camp. Please note that income tax receipts will be issued for donations of $20 or more and roughly $1,300 sends one child to Brigadoon Village for a week. If a family cannot afford the costs, events like The BIG SWIM subsidize these families so their child has the opportunity to experience this incredible facility!
Thank you kindly, for supporting Brigadoon Village through my BIG SWIM 2019 efforts!
Jeff Burns
View More
Achievements
BIG Shark
Raised $2000 to send kids to camp!
Fundraising Honor Roll
Greene-Lynch Landscaping
$40
Heidi, Jaime and Jesse Burns
$40
Hugh & Helen MacDonald
$50
Katie MacIsaac-Mattie
$35
Ken & Heather MacKenzie
$25
Lisa and Craig MacDonald
$50
Marsha & John McGrath
$20
Maureen and Charles Fraser
$25
Michelle, Trevor, Emma & Gracie
$50
Mrs. Ardith Elaine Tibbo
$25
Mrs. Barbara Jean Overmars
$50
Troy & Wendy Chisholm
$100